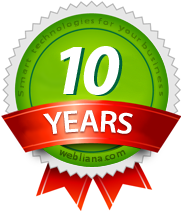 We're full service web design studio based in Ukraine/Vinnitsa. Since 2004, at the Department of workflow and groupware we open a new area of web projects - Web Design Studio- WebLiana. After many years of work on the regional market, the WebLiana has established itself as a reliable partner, able to effectively implement IT- Projects of any complexity and configuration.
     Our company has been providing business of all sizes with reliable professional services. From the beginning our sites have a view static text on a computer screen. Now our target is providing services in producing unique web sites for business who want more than a template design.
why is WebLiana ideal for you and your business?
     We handle each client with the highest level of professionalism and leave our personal work on each website we designed. We will offer you high-quality, easy-to -use technology that will not only help your business, but will be proud of your company.
       All web sites, which makes our company are supplied to the customer together with the CMS ( content management system). Content Management System - a local software provides tools for adding, editing, deleting information that is on your web site.
     We work with major specialized CMS, such as : MODx Revolution, vBulletin, PrestaShop, WordPress, and also have our own Liana-CMS - for information portals and Liana-Shop - for online shops and online catalogs.
     Tariff plans for hosting web sites on PHP MySQL, databases and applications on Lotus Domino. 
contact us
Give ua a ring

+38 0432 55 45 65 

              +38 098 781 24 28

Send us a e-mail sale@webliana.com

support@webliana.com

Visit our office

 17, 600-let Street

                  Vinnitsa, Ukraine